Zaira Romeo
Personal Page of Zaira Romeo
Zaira Romeo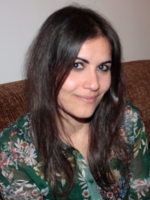 Ph.D. Student
Department of General Psychology
University Of Padova
via Venezia 12/2
35131 Padova (Italy)
tel : +39 049 827 6941
fax: +39 049 827 6600
e-mail: zaira.romeo@studenti.unipd.it
office: room P008 (ground floor), Building Psico2
Research Interests
I'm carrying out a research project on Default Mode Network and functional activity using fMRI and EEG. The aim of the study is to analyze the relationship between spontaneous brain activity and cognitive performances in brain-damaged patients and to investigate the role of the neural network's functional organization on their recovery.
My research interests are focused on the electrophysiological correlates of resting state and visuo-spatial attention under multitasking condition in stroke patients.
I am also interested in language lateralization in psychiatric patients.
Education
Laurea (M.Sc.), Neuroscience and Neuropsychological Rehabilitation, University of Padova (2013)